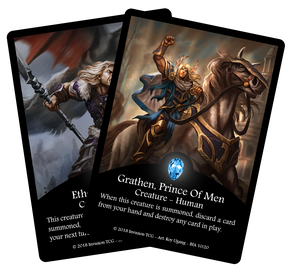 Grathen, Prince Of Men leads the defense of the city at the helm of a battle-hardened army. If you like keeping your opponent's creatures in check while you chip away at their life points with attack after attack, then the Defend The City Starter Deck is for you! 

The Defend The City Starter Deck has been built by Invasion TCG's game designers around a defensive, control-based theme. It's packed with exciting mechanics and perfect for a new player to battle with.  
Full Deck List 
3x Grathen, Prince Of Men, 3x Feldarah, The Redeemer, 3x Cinder Dragon, 3x Ajuna, The Seeker, 2x Ethella, The Brave, 2x Protect The Throne, 3x Fatal Blow, 3x Countermand, 3x Call To Arms, 2x Scout The Way, 3x Ancient Halls.
All Invasion TCG Starter Decks come with a free cardboard deck box to store your cards in.
Deck Name: Defend The City
Deck Type: Starter Deck
Set Name: Battle for Arazineth